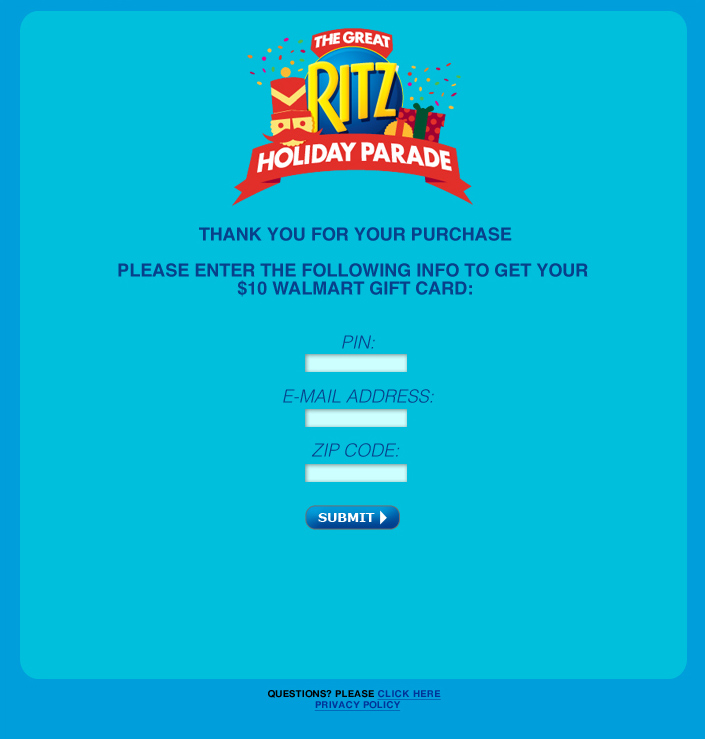 Mondelez RITZ Crackers/Walmart Program: "The Great RITZ Holiday Parade"
Mondelez' RITZ Crackers will be bringing holiday cheer to Walmart shoppers throughout the month of December 2013. The program utilizes TPG's Digital Receipt Validation System to reward qualified consumers with Walmart e-Gift Cards – and to provide shoppers with proprietary, special holiday recipes using RITZ crackers.
Consumers who purchase any ONE participating RITZ product at Walmart from 12/5/13 – 12/12/13 will be instructed, via Walmart.com (http://wm6.auth.cap-hosting.com/Ritz.aspx#promo), to submit their receipt for validation to ritz@drvsusa.com. TPG's DRVS system will then validate the receipt and issue a code valid for a $10.00 Walmart e-Gift Card. Each Walmart e-Gift Card may be used at any Walmart store, or redeemed on Walmart.com. Participating consumers will also receive special recipes developed for Walmart shoppers, along with other special offers.
Snap, Send, Receive!
1. Buy one (1) box of RITZ crackers (10-oz. or larger) at any Walmart store in the US from Dec. 5 to Dec. 12.
2. Snap a picture of your receipt and email or text it to ritz@drvsusa.com for validation. Receipt submission must be made by Dec. 17, 2013.
3. Receive a $10 Walmart Photo Center eGift Card.
To learn more, visit drvsusa.com/ritz.